READY … GO!
After arriving at our base and a couple of trial laps, to get confident with the quads, you'll be ready to be immersed in the Tuscan hills among old vineyards and off-road paths. These off-road excursions bring you into contact with nature, the history of typical villages with breathtaking views, and are dedicated to fun and adventure. We won't miss the chance to have a break with some good Chianti wine and traditional Tuscan delicacies.
DISCOVER OUR PROPOSALS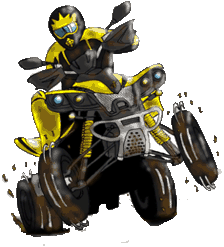 Rules and conditions for the participation in the excursion
Suggested clothing:
trekking boots – long trousers – long-sleeved t-shirt – wind-proof jacket – rain- jacket (able to be bought on the premises) – ** we suggest you bring a full change of clothes for after the excursion.
What the excursions include:

Rc third party insurance * – fuel – mechanic available throughout the excursion – helmet – expert guide throughout the excursion
for groups of more than 6 people there will be a photographer to document the excursion.
*all of our vehicles have a third party insurance(RC) however they don't have the Kasco Infortuni, thus any damage caused directly to the vehicles will have to be reimbursed.
What the excursion doesn't include:
The excursion doesn't include anything not previously indicated.
Requested documents:
patente di guida B1, B o superiore
Restrictions:
The age limit for passengers is 5 years old.
To drive a quad you must show your driving licence before each departure.
Before every departure you will have a brief training where you will be shown how to operate the quad as well as some practice laps to familiarize yourself with the controls.
Before any excursion the participants must sign documentation relating to privacy, personal data and the release form for the rental.
Weather Conditions:
Should the weather conditions be bad enough to not guarantee full safety during the excursion, the trip will be postponed to another date without any extra charges.
Cancellation Policy:
Any cancellation has to be done a minimum of 48 hours prior to the excursion, if not cancelled in time you will have to pay for the excursion anyway.